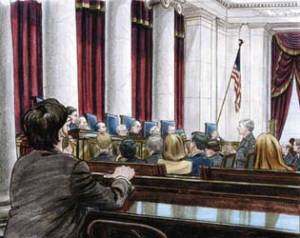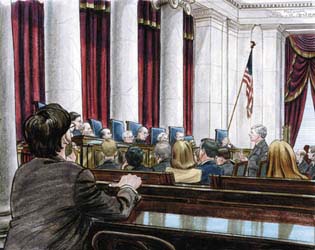 Before the U.S. Supreme Court in Castillo v. U.S. (2000)
"Stephen Halbrook is an attorney with extensive knowledge of the historical underpinnings of the Second Amendment and practical knowledge of litigating in this rapidly evolving area of law. His writings include topics as diverse as Gun Control in the Third Reich and The Founders' Second Amendment, and he was heavily involved in Heller and McDonald."
– U.S. District Judge Michael J. Reagan
Shepard v. Madigan, 2014 WL 4825592, *7 (S.D. Ill. 2014)
Supreme Court Practice
Comments on ATF Regulation Proposals
Practice Areas
Gun Control Act/National Firearms Act
Firearm technical classifications
ATF regulatory compliance
FFL warning conferences, license denials,
and revocations
Forfeitures
Legal disabilities and restoration of civil rights
Criminal defense
State and Local Laws
"Assault weapon" restrictions
Legal status of firearms
Challenging restrictions



Books
Congressional Testimony
Scholarly Articles
Second Amendment Roundup at The Volokh Conspiracy
Op-Eds & Short Articles
"The Battle for Freedom Escalates," America's 1st Freedom, June 28, 2023.
"Book Review: Einer Für Alle, Alle Für Einen—One For All, All For One," 59 Swiss American Historical Society Review, No. 2, 92-100 (2023).
"America's Rifle: What the Gun-Control Crowd Doesn't Want You to Know about AR-Type Rifles," America's 1st Freedom, Jan. 29, 2023.
Second Amendment Law at The Volokh Conspiracy, Dec. 2022.
"What This U.S. Supreme Court Decision Will Mean for America," America's 1st Freedom, Aug. 24, 2022.
"Supreme Court Second Amendment Ruling Is about Self-Defense," Washington Examiner, July 15, 2022.
"What Firearms Have 'Common-Use' Protections?," America's 1st Freedom, May 22, 2022.
View More Op-Eds and Short Articles >>
TV Appearances
Presentations
This error message is only visible to WordPress admins
Error: Connected account for the user stephenhalbrook does not have permission to use this feed type.
Try using the big blue button on the "Configure" tab to reconnect the account and update its permissions.
Marathon & Triathlon Photos